Type I
99.7 % gold minimum; hardness grade A or C. Gold plating used for general-purpose, high-reliability electrical contacts, solderability, and wire wrap connections.
Type II
99.0 % gold minimum; hardness grade C, or D. A general-purpose, wear-resistant gold. It will not withstand high-temperature applications because the hardening agents in the gold plating will oxidize.
Type III
99.9 % gold minimum; hardness grade A only. Gold plating for semiconductor components, nuclear engineering, thermo compression bonding, and high-temperature application.
Hudson Plating Works provides quality gold plating services in accordance with MIL-G-45204 and ASTM-B488. HPW supplies precision barrel or rack gold plating services for numerous industries including aeronautics, aerospace telecommunications and electronics.
A wide range of gold plating processes are offered and include both "soft" and "hard" requirements as listed below.
Properties of gold plating include excellent electrical and thermal conductivity offering exceptional solderability and reflectivity. Being a noble metal gold does not oxidize or chemically react under normal circumstances. Gold plating is the process of choice for engineering requirements when electrical conductivity, solderability / wire bonding, and corrosion resistance are needed.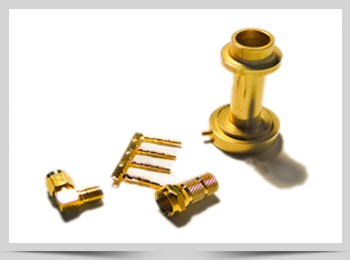 Hudson Plating Works has the expertise to fulfill even to most demanding gold plating requirement. From R & D and prototype qualifications to production runs, our dedication to quality will surpass expectations. Our ability incorporates proficiency in gold plating all base materials including difficult to process materials such as titanium, molybdenum, niobium, tungsten, inconel, invar, kovar, and composites. Delicate, difficult geometries, or selective plating of hardware is all managed with care, quality and assurance that customer requirements are met and delivery is made in accordance with customer requirements.
All analytical and testing compliance is performed by the HPW in-house laboratory. Thickness and adhesion verification, hardness and purity of the gold plated deposition, corrosion resistance (salt spray), heat resistance, hydrogen embrittlement relief are a sample of gold plating specification requirements. Inspection and testing is completed and documented for assurance of compliance to all specification and customer requirements.